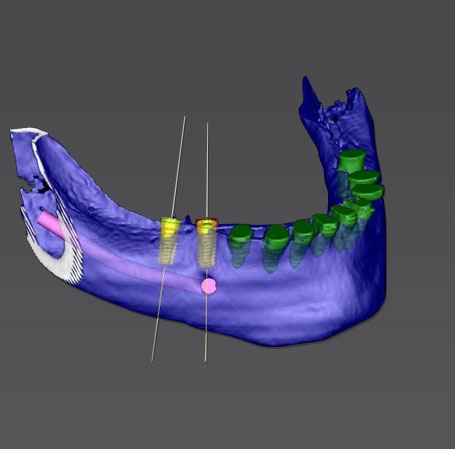 coDiagnostiX®, gonyX® – The system for dental implant planning
coDiagnostiX® is a specific software in order to creat three-dimensional designs of dental implants.
The software allows us to make quick and precise implant insertions.
coDiagnostiX contains various measuring functions and planning options. It comes with an implant data base as well as precise evaluation possibilities.
Moreover, you are able to show your planning to the patient on the monitor. Even after the surgery the patient is able to view the results.
The software coDiagnostiX is CE-and FDA-certified.
coDiagnostiX stands for precision and safety during implantations. With the help of the so-called gonyX device, we are able to produce drilling templates according to our coDiagnostiX data.
The software automatically detects the standardized Titanium pins which are installed within the CT drilling template. These markers serve as reference for calculating the coordinates of the implant. Using these coordinates, the technician is able to implement (with help of the gonyX device) the precise surgical template with depth limit manufacture. Similarly, a precise preparation of temporary or final dentures is possible.
Prior to the preparation of the drilling template, an integrated control module allows the technician to review and correct the setting of the drilling coordination. Thanks to this module, the implantologist can review the results before doing the surgery. A maximum level of quality can be achieved. Additionally, the patient can be assured that the highest possible level of security during the implantation is provided. p>
It is simple to upload and send data to our dental milling center. The basis for planning is a CT or DVT devise (e.g. NewTom), which is DICOM compatible. External processing is unnecessary. p>
You can simply sign up with the necessary data. Then, you will receive a user name and password. Thus, you can simply log into our system and send us your X-ray data.
Throughout the entire planning process, we like to focus on a close cooperation between the dentist / implantologist and our dentistry. p>
We gladly inform you about further details and advantages of our implant planning service. Feel free to contact us. P>