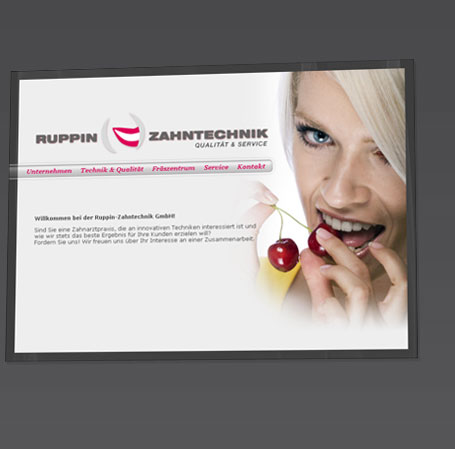 Marketing
We developed 3 special offers in collaboration with a renowned advertising agency.
In todays time a large proportion of information and business relationships are shared and maintained within the World Wide Web.
We offer your company or business the opportunity to be represented in an expressive web-presentation, to win new customers.
Offer No. 1: Free Entry
You have the opportunity to register your business or company in our contact list. This offer is free of charge. You may publish your address, telephone number and your list of services. Use our contact list and enable your customers to find you very easily.
Offer No. 2: Web business card
A Web business card briefly introduces your company to your costumers. In general, you have the opportunity to present yourself by using your own logos, pictures and articles. Our offer includes the design and programming of three screen pages.
Possible Content:
Logo / Address
contacts / Management
office hours / opening hours
You are getting:
own .de- domain
20 E-Mail mailboxes
500 MB webspace
1 GB traffic
3 HTML-Pages (staticly)
detailed access statistics
Offer No. 3:
A professionally designed website
Would you like to have a well functioning and impressive online presentation/service for your costumers? Take advantage of our offer to create an extensive website. This special offer not only includes the possibilities of creating your own contact forms or installing a route planner, but it has up to 10 HTML pages available for you. That way, you can use many images and texts, to create your individual and professional website.
Possible Content:
Logo
The Name of the Company
Address
The history of the company
Specifications
Introduction of the employees
Pictures of the company and your products
A Route planner with map
You are getting:
own .de- domain
50 E-Mail mailboxes
2 GB webspace
5 GB traffic per month
up to 3 design proposals
1 Contact form with spam protection
10 HTML-Pages (staticly)
detailed access statistics
Studio für neue Medien
Mathias Hanke

Feldstraße 1
D-01768 Glashütte

Fon: (035053) 39 20 0
Fax: (035053) 39 20 2

Kontakt: email
Web: www.webdesign-hanke.de
Charges:

single payment 299,00 €
annual payment 23,99 €


Example: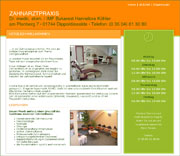 Charges:

single payment 989,00 €
annual payment 28,99 €


Example: